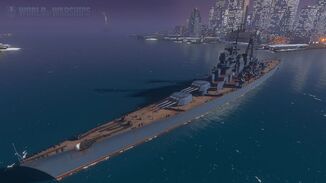 A ship designed and intended to destroy light enemy cruisers and fight against heavy cruisers (Project 66). Unlike her foreign counterparts, she boasted bigger dimensions and better armor protection. The cruiser's main battery surpassed foreign guns in maximum range and destructive power but had a lower rate of fire.
Huge amount of HP, equivalent to Tier VIII Battleships.
Longest gun range of any cruiser in the game, which can be boosted to 22.6km with the right equipment modules.
Fast, at 34.5 knots top speed.
Powerful guns, able to even citadel battleships at close range with AP, while setting a lot of fires as well with HE.
Guns have the fastest velocity for main battery, at 985 m/s, means you will land hits even at maximum range.
Despite the description of "lower rate of fire", Moskva's guns actually fire faster than her predecessor.
Angling with the bow is very easy to achieve, and her deck armor is enough to bounce most shells with proper angling.
Armor is actually decent for a Russian cruiser, you can shrug off hits from long range if you maneuver.
Massive size for a cruiser; as large as some battleships.
Turns slowly, even with the smallest turning radius at that tier for cruisers.
Anti-aircraft defense is bad, use Defensive Fire as much as you can.
Turrets can break very easily if penetrated as well as lack sloping on the face cplates so they don't bounce shells.
Detected at 18 km, you will take lots of hits as soon as you get detected.
Lacks torpedoes unlike most Russian cruisers.
As per usual with Soviet cruisers, the citadel is located high up in the hull.
Although it has equivalent HP to Tier VIII battleships, it doesn't have the armor to back it up in certain places and cannot take hits for an extended period of time.