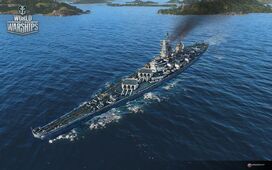 One of the most powerful battleships of World War II. The ship was designed for escorting attack carrier forces. She surpassed the speed of all battleships in the world. The battleship's survivability was significantly improved owing to a novel and powerful torpedo protection system and a fundamentally different armor protection system featuring an internal armor belt.  All four Iowa-class ships built are now preserved as military museum ships: USS Iowa in San Pedro, California; USS Missouri in Pearl Harbor, Hawaii; USS Wisconsin in Norfolk, Virginia; and USS New Jersey in Camden, New Jersey.
Same gun range as her predecessor and highest range for a battleship at her tier.
Better penetration and shell velocity compared to North Carolina due to the 50 caliber gun.
Able to mount Artillery Plotting Room Modification 2 for better dispersion.
Armor is more durable than predecessors.
Incredible anti-aircraft suite makes her highly resistant to aerial assault.
Improved torpedo defense system with a torpedo damage reduction of 27% (compared to North Carolina's 19%).
The fastest battleship in the game at a whopping 33 knots.
Third turret has a greatly improved gun arc over North Carolina, allowing it to be used while angling effectively.
Weaker broadside armor than standard battleships, but still stronger broadside armor than North Carolina.
Bad rudder shift time (over 20 sec) until Hull (C).
Overall length combined with her turning circle takes some getting used to when trying to dodge torpedoes.
Very tall superstructure makes her easier to hit, especially when trying to hide behind islands.
Weak secondary armament with a very low range compared to Tier IX counterparts Izumo and Friedrich der Große.