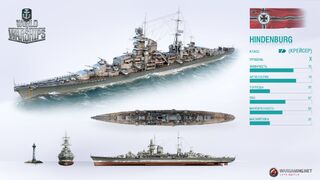 The ship was developed from a series of German heavy cruisers. Unlike ships of preceding classes, she boasted an increased displacement and more powerful main battery guns.
Fast-reloading 203mm guns; not as fast as Des Moines, but with better base range and shell arcs.
Excellent shell velocity and low gun arc makes hitting distant targets easier.
Good range on her main battery guns, which can be boosted to 20.7 km by equipping Gun Fire Control System Modification 3.
Best cruiser AP shell damage in the game; Hindenburg will punish any ship that is broadside to her, regardless of class.
Strong AA armament, especially if a few modules or commander skill points are invested in improving the range.
Decent torpedoes with good firing arcs.
Armor scheme is deceptively sturdy; she is hard to citadel at medium and short range.
Best Hydroacoustic Search in the game.
AP shells are near useless against targets that are well-angled.
HE shell damage is lower than all other Tier X cruisers.
Sluggish maneuverability and low maximum speed.
Large size; Hindenburg is fairly easy for enemies to hit.
Prone to citadel penetrations at long range, which makes her large detection radius a huge liability.
Large detection radius for a cruiser — 16.0 km base — although this can be reduced to ~12 km with the right equipment modules and commander skills.
Has to expose quite a bit of her broadside to bring all guns to bear.