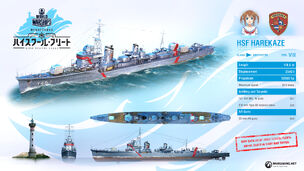 Kagero-class training ship of the Yokosuka Girls Maritime High School. She is operated by the main character Akeno Misaki. The ship mounts experimental modules that allow her to travel at higher speeds than her sister ships at the cost of stability. In the series, reduced personnel by automation allows for a single class of 30 students to operate the ship.
Has many of Kagero's upsides.
Very versatile armaments configurations; can equip fast-firing guns in addition to the standard IJN destroyer main batteries.
Alternate main batteries much faster rotation times than the standard 127mm battery.
Has many of the downsides that Kagero has.
Uses Kagero's stock torpedoes.
More sluggish rudder shift time than Kagero.