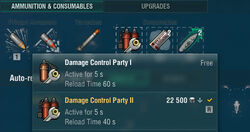 See also: Signal Flag, Customization
Consumables provide ships with small yet often ship-saving advantages and improve their combat qualities when activated. While the "Damage Control Party" consumable is available on all warships, other consumables are specific to a certain type. Players can purchase new consumables both with credits and doubloons.
The number of slots available for consumables also varies from ship to ship.
Consumables can be replaced with their enhanced versions that recharge quicker during battle.
To change the installed consumables:
Go to the MODULES tab.
Click a consumables slot.
Select the consumables desired.
Damage Control Party I/II
Edit
Instantly repairs any module incapacitations, fires, and floods.
Cost: Free / 22,500
| Ship | Nation | Duration (sec) | Cooldown (sec) |
| --- | --- | --- | --- |
| Aircraft carrier | Japan, U.S.A. | 5 | 90 / 60 |
| Battleship | U.K. | 5 | 90 / 60 |
| Battleship | Japan | 10 | 120 / 80 |
| Battleship | Germany, France, U.S.S.R. | 15 | 120 / 80 |
| Battleship | U.S.A. | 20 | 120 / 80 |
| Cruiser | Japan, U.K., Germany, U.S.A., U.S.S.R. | 5 | 90 / 60 |
| Destroyer | Japan, U.K., U.S.A., U.S.S.R., Pan-Asia, Poland | 5 | 60 / 40 |
Spotting Aircraft I/II
Edit
Launches plane, +20% range, aerial scope perspective
Cost: Free / 22,500
Cooldown: 360 / 240 seconds
| Ship | Tier | Nation | Duration (sec) | Charges |
| --- | --- | --- | --- | --- |
| Murmansk | V | U.S.S.R. | 100 | 3 / 4 |
| Battleship | IV | Japan | 100 | 2 / 3 |
| Battleship | V | Japan | 100 | 3 / 4 |
| Battleship | VI, VII | Japan, U.K., U.S.A. | 100 | 3 / 4 |
| Battleship | VIII | Japan, Germany, U.S.A. | 100 | 4 / 5 |
| Battleship | IX | U.S.A. | 100 | 3 / 4 |
| Battleship | IX | Japan, Germany | 100 | 5 / 6 |
| Battleship | X | U.S.A. | 100 | 6 / 7 |
| Battleship | X | Japan, Germany | 100 | 7 / 8 |
| Cruiser | V - VIII | U.K. | 180 | 3 / 4 |
| Cruiser | VI - VIII | U.S.S.R. | 100 | 3 / 4 |
| Cruiser | IX | Japan, Germany | 100 | 3 / 4 |
| Cruiser | X | Japan | 100 | 2 / 3 |
| Cruiser | X | Germany | 100 | 3 / 4 |
| Cruiser | X | U.S.A. | 100 | 4 / 5 |
Catapult Fighter I/II
Edit
Launches plane that patrols around ship.
Cost: Free / 22,500
Duration: 360 seconds
Cooldown: 180 / 120 seconds
| Ship | Tier | Nation | Charges |
| --- | --- | --- | --- |
| Battleship | VII | Japan, Germany, U.S.A. | 3 / 4 |
| Battleship | VIII | Japan, Germany, U.S.A. | 4 / 4 |
| Battleship | IX | U.S.A. | 3 / 4 |
| Battleship | IX | Japan, Germany | 5 / 6 |
| Battleship | X | U.S.A. | 6 / 7 |
| Battleship | X | Japan, Germany | 7 / 8 |
| Cruiser | IV | Japan | 1 / 2 |
| Cruiser | V | U.S.A. | 2 / 3 |
| Cruiser | V, VII, VIII | Japan, U.K., Germany | 3 / 4 |
| Cruiser | VI | Germany | 2 / 3 |
| Cruiser | VI | Japan, U.K. | 3 / 4 |
| Cruiser | VI - X | U.S.A. | 4 / 5 |
| Cruiser | IX | Japan, Germany | 3 / 4 |
| Cruiser | X | Japan | 2 / 3 |
| Cruiser | X | Germany | 3 / 4 |
Repair Party I/II
Edit
Repairs ship damage by % maximum hit points per second.
Cost: Free / 22,500
Cooldown: 120 / 80 seconds
| Ship | Tier | Nation | Healing (%/sec) | Duration (sec) | Charges |
| --- | --- | --- | --- | --- | --- |
| Atago | VIII | Japan | 0.5 | 28 | 2 / 3 |
| Battleship | III - VI | Japan, Germany, U.S.A. | 0.5 | 28 | 3 / 4 |
| Battleship | VI | U.K. | 0.6 | 28 | 3 / 4 |
| Battleship | VII | Japan, Germany | 0.5 | 28 | 3 / 4 |
| Battleship | VII | U.S.A. | 0.65 | 28 | 3 / 4 |
| Battleship | VIII - X | Japan, Germany, U.S.A. | 0.5 | 28 | 3 / 4 |
| Cruiser | III - VII | U.K. | 0.5 | 28 | 2 / 3 |
| Cruiser | VIII - X | U.K. | 2.0 | 20 | 2 / 3 |
| Cruiser | IX - X | Japan, Germany, U.S.A., U.S.S.R. | 0.5 | 28 | 2 / 3 |
Smoke Generator I/II
Edit
Deploys vision-obscuring smoke; Reduces enemy detection; Impairs vision
Cost: Free / 22,500
Cooldown: 240 / 160 seconds
Ship
Tier
Nation
Emission Time (sec)
Duration (sec)
Charges
Iwaki Alpha
IV
Japan
15
80
2 / 3
Mikhail Kutuzov
VIII
U.S.S.R.
20
89
1 / 2
Flint
VII
U.S.A.
27
121
2 / 3
Cruiser
V
U.K.
7
96
2 / 3
Cruiser
VI
U.K.
7
99
2 / 3
Cruiser
VII
U.K.
7
103
2 / 3
Cruiser
VIII
U.K.
7
106
2 / 3
Cruiser
IX
U.K.
7
110
2 / 3
Cruiser
X
U.K.
7
113
2 / 3
Destroyer
II
U.S.A.
22
106
2 / 3
Destroyer
III
U.S.A.
23
109
2 / 3
Destroyer
IV
U.S.A.
24
112
2 / 3
Destroyer
V
U.S.A.
25
115
2 / 3
Destroyer
VI
U.S.A.
26
118
2 / 3
Destroyer
VII
U.S.A.
27
121
2 / 3
Destroyer
VIII
U.S.A., Pan-Asia
28
124
Destroyer
IX
U.S.A.
29
127
2 / 3
Destroyer
X
U.S.A.
30
130
2 / 3
Destroyer
II
Japan, U.S.S.R.
20
65
2 / 3
Destroyer
III
Japan, U.K., U.S.S.R.
20
69
2 / 3
Destroyer
IV
Japan, U.S.S.R.
20
73
2 / 3
Destroyer
V
Japan, U.S.S.R.
20
77
2 / 3
Destroyer
VI
Japan, U.S.S.R., Pan-Asia
20
81
2 / 3
Destroyer
VII
Japan, U.S.S.R., Poland
20
85
2 / 3
Destroyer
VIII
Japan, U.S.S.R.
20
89
2 / 3
Destroyer
IX
Japan, U.S.S.R.
20
93
2 / 3
Destroyer
X
Japan, U.S.S.R.
20
97
2 / 3
Engine Boost I/II
Edit
Engine will operate at 108% or provide an 8% increase in top speed.
Cost: Free / 22,500
Destroyers only
Duration: 120 seconds
Cooldown: 180 / 120 seconds
Charges: 2 / 3
| Tier | Nation |
| --- | --- |
| II, IV, V, IX, X | Japan, U.S.A., U.S.S.R. |
| III | Japan, U.S.A., U.S.S.R., U.K. |
| VI, VIII | Japan, U.S.A., U.S.S.R., Pan-Asia |
| VII | Japan, U.S.A., U.S.S.R., Poland |
Hydroacoustic Research I/II
Edit
Increases detection capability of enemy torpedoes and ships.
Cost: Free / 22,500
Cooldown: 180 / 120 seconds
Charges: 2 / 3
| Ship | Tier | Nation | Duration (sec) | Torpedo Detection Range (km) | Ship Detection Range (km) |
| --- | --- | --- | --- | --- | --- |
| Lo Yang | VIII | Pan-Asia | 90 | 2.52 | 3.48 |
| Battleship | VIII | Germany | 118 | 3.84 | 5.58 |
| Battleship | IX | Germany | 120 | 3.93 | 5.73 |
| Battleship | X | Germany | 122 | 4.02 | 5.88 |
| Cruiser | IV | Japan, U.K., U.S.A., U.S.S.R. | 90 | 2.52 | 3.48 |
| Cruiser | V | Japan, U.K., U.S.A., U.S.S.R. | 90 | 2.67 | 3.72 |
| Cruiser | VI | Japan, U.K., U.S.A., U.S.S.R. | 92 | 2.82 | 3.96 |
| Cruiser | VII | Japan, U.K., U.S.A., U.S.S.R. | 94 | 2.97 | 4.20 |
| Cruiser | VIII | Japan, U.K., U.S.A., U.S.S.R. | 96 | 3.12 | 4.44 |
| Cruiser | IX | Japan, U.K., U.S.A., U.S.S.R. | 98 | 3.27 | 4.68 |
| Cruiser | X | Japan, U.K., U.S.A., U.S.S.R. | 100 | 3.42 | 4.92 |
| Cruiser | IV | Germany | 110 | 3.48 | 4.92 |
| Cruiser | V | Germany | 112 | 3.57 | 5.13 |
| Cruiser | VI | Germany | 114 | 3.66 | 5.28 |
| Cruiser | VII | Germany | 116 | 3.75 | 5.43 |
| Cruiser | VIII | Germany | 118 | 3.84 | 5.58 |
| Cruiser | IX | Germany | 120 | 3.93 | 5.73 |
| Cruiser | X | Germany | 122 | 4.02 | 5.88 |
Defensive AA Fire I/II
Edit
Temporarily increases the damage of anti-aircraft guns.
Temporarily decreases the accuracy of enemy bombers.
Cost: Free / 22,500
| Ship | Tier | Nation | Duration (sec) | +DPS% | Cooldown (sec) | Charges |
| --- | --- | --- | --- | --- | --- | --- |
| Yubari | IV | Japan | 40 | 25mm: 300 | 180 / 120 | 1 / 2 |
| Atlanta/Flint | VII | U.S.A. | 40 | 25mm: 300 | 180 / 120 | Infinite |
| Lo Yang | VIII | Pan-Asia | 30 | 25mm: 300 | 180 / 120 | 2 / 3 |
| Aircraft carrier | VIII | Japan | 120 | 25mm: 175 | 360 / 240 | 1 / 2 |
| Aircraft carrier | IX | Japan | 120 | 40mm: 175 | 360 | 1 / 2 |
| Aircraft carrier | X | Japan | 120 | 40mm: 175 | 360 / 240 | 1 / 2 |
| Aircraft carrier | VIII - X | U.S.A. | 120 | 40mm: 125 | 360 / 240 | 1 / 2 |
| Cruiser | VI - X | Japan, Germany, U.S.S.R. | 40 | 25mm: 300 | 180 / 120 | 2 / 3 |
| Cruiser | VI - X | U.S.A. | 40 | 25mm: 300 | 180 / 120 | 3 / 4 |
| Destroyer | V - X | U.S.A. | 30 | 25mm: 300 | 180 / 120 | 2 / 3 |
Surveillance Radar I/II
Edit
Reveals all enemy ships within radar radius.
Extends view range in cyclones.
Cost: Free / 22,500
Cooldown: 180 / 120 seconds
Charges: 2 / 3
| Ship | Tier | Nation | Duration (sec) | Range (km) |
| --- | --- | --- | --- | --- |
| Indianapolis, Atlanta, Flint | VII | U.S.A. | 25 | 8.49 |
| Belfast | VII | U.K. | 25 | 8.49 |
| Cruiser | VIII | U.K., U.S.A. | 30 | 9.00 |
| Cruiser | IX | U.K., U.S.A. | 35 | 9.45 |
| Cruiser | X | U.K., U.S.A. | 40 | 9.90 |
| Cruiser | VIII, IX | U.S.S.R. | 20 | 11.70 |
| Cruiser | X | U.S.S.R. | 25 | 11.70 |
Torpedo Reload Booster I/II
Edit
Reduces torpedo reload time to 5 seconds.
Japanese destroyers only, tiers VII and IX.
Duration: 1 second
Cooldown: 360 / 240 seconds
Charges: 2 / 3
`\(-W-)/`