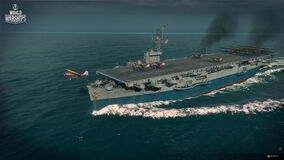 A low-speed escort aircraft carrier built from a transport ship. Due to her modest size, the ship carried a relatively small air group. Soon after being commissioned, the aircraft carrier was rearmed with dual-purpose artillery and received reinforced AA defenses.
Strong AA.
Fighters have virtually unlimited ammunition, and the large squadrons easily crush others of her tier or lower.
Very easy to manage.
Glacially slow at 16.5 knots, only being 1.5 knots faster than Langley at the cost of an even slower acceleration.
Poor rudder-shift time, secondaries, and armor will get her sunk quickly if caught in the open.
Few reserve planes---in fact, only the stock loadout can replace a full wave of planes.
Low squadron count limits map presence.
Inability to strafe is a massive disadvantage when placed in double-carrier matches with Tier VI carriers
Ad blocker interference detected!
Wikia is a free-to-use site that makes money from advertising. We have a modified experience for viewers using ad blockers

Wikia is not accessible if you've made further modifications. Remove the custom ad blocker rule(s) and the page will load as expected.