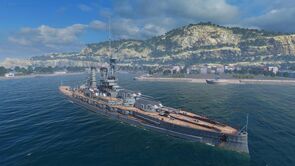 The warship belonged to the last series of battleships built for the Imperial German Navy. She was distinguished for her powerful 380 mm main guns with extremely good shell ballistics and a rate of fire that was quite high among similar gun systems.
Excellent damage and penetration values from her main battery guns.
Armor layout makes her highly resistant to damage.
Impressive range with the GFCS alone.
Comparable gun caliber to Warspite.
Good shell velocity.
High volume of secondaries with decent range.
Above average speed and turning characteristics.
Surprisingly stealthy for a dreadnought, allowing her to close the distance to where her guns will do more damage.
Final hull with captain perks and modules can make her almost immune to even Tier VII aircraft.
Statistically, she is the most well rounded BB for her tier.
Dispersion of her main battery guns is often frustrating.
As with all dreadnought battleships, the stock grind can be painful.
The stock World War I-era hull does not have any anti-aircraft defenses, allowing aircraft to attack with impunity.
Does not have a catapult to launch spotter planes or defensive fighters.
Slow turret traverse.
Slightly longer reload time than most German battleships.