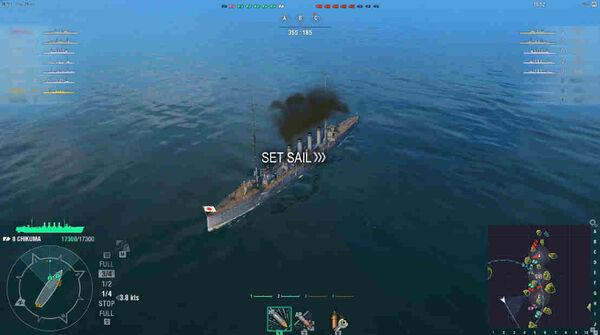 Score: top center of the screen. The roster for both sides, represented by their warship icons. Use it as a quick way to keep track of how many ships are still floating and fighting on each team.
Allied Team: top left of screen. A list of allies with brief information about each player: in-game name, number of destroyed ships, and current ship silhouette. Hold Tab to display a complete team roster.
Enemy Team: top right of screen. A list of the enemy's lineup, including ship silhouette, number of destroyed ships, and player name. Hold Tab to display a complete team roster.
Minimap: lower right of screen. Map of the battlefield. Hold CTRL and click a minimap sector to draw allies' attention to it. Use the + or - keys to adjust the map size.
Ammunition and Consumables: bottom center of screen. Icons that show which of a player's ammo types and consumables are active, reloading, or depleted. Use the designated number keys to select or activate the item. The number lines on top indicate the current status of the player's main battery.
Warship Status: bottom left of screen. The player's ship's name, tier, HP, camera angle, armament position and readiness, current speed, and autopilot status.
Ad blocker interference detected!
Wikia is a free-to-use site that makes money from advertising. We have a modified experience for viewers using ad blockers

Wikia is not accessible if you've made further modifications. Remove the custom ad blocker rule(s) and the page will load as expected.